NZIOB YOUNG ACHIEVERS AWARDS 2017
Dominion is Proud to announce that three of our staff have made it through to the finals of the NZIOB Young Achievers 2017!!
James Reed one of our Project Managers is in the running, for the second time in his career for the NZIOB Young Achevers awards. James is currently working on the Summerset Project in Ellerslie. James has shown great leadership skills through all the major projects he has worked on as a senior PM with Dominion Constructors.
Chris Bassett the Dominion Residential Project Leader, has shown outstanding leadership and management skills working on all Residential projects. Chris manages the apprentices at Dominion and is always willing to coach, share his skills and experiences with them.
Todd Scrafton is a Site Manager with Dominion Constructors. Todd is currently working on The International project in the Auckland city. The International is one of the biggest projects Dominion Constructors has and we are confident that Todd will be able to work with the team to execute this project to a high standard.
CLICK HERE to go back news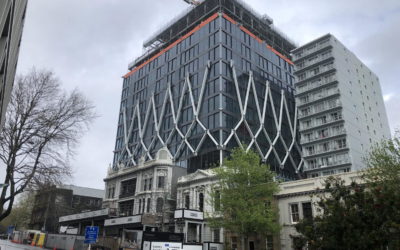 THE INTERNATIONAL FACADE Team international winning the game of pick up sticks connecting the dots to the roof! Some of these aluminum extrusions are 12m long weighing half a tonne being installed at very oblique angles forming the exoskeleton wrapping the building...